If Instagram is still not part of your website's marketing wheelhouse, you need to think again.
According to a study by Merkle, US websites saw a 114% increase in Instagram referral traffic in 2019. In comparison, referrals from Facebook and Pinterest grew 9% each while YouTube and Twitter exhibited flatlined or negative growth.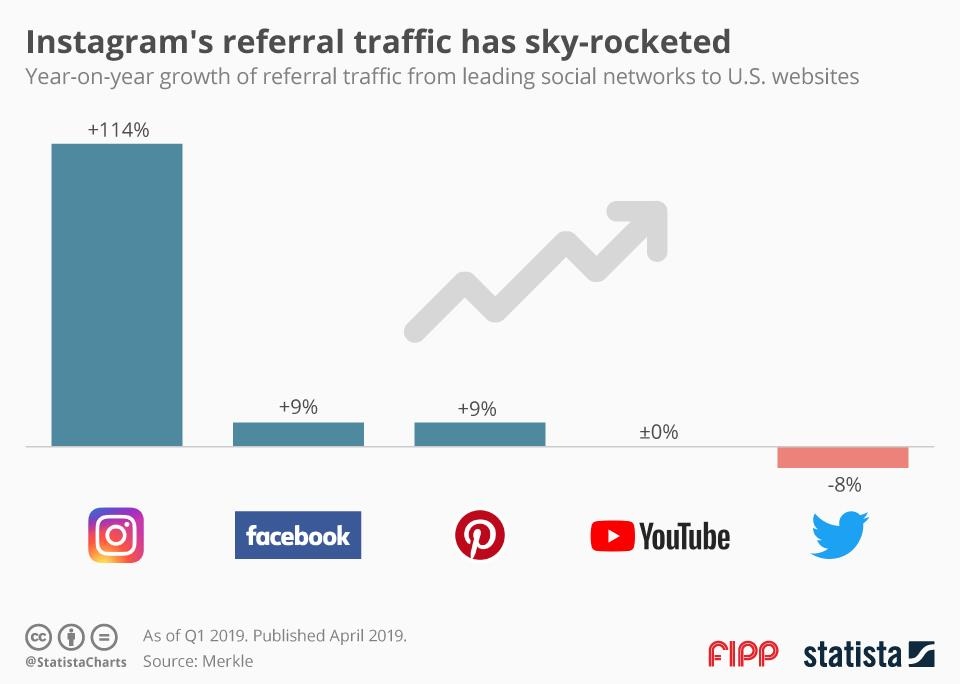 If you do not have an Instagram account for your business yet, here is a quick guide on how to establish a following and start seeing traffic from this social media channel.
Start with partnerships
One of the quickest ways to build an Instagram following is with partnerships. This is how it works:
Find Instagram accounts that have a sizeable number of followers who fall in your target group

Reach out to them with a partnership proposal. Typically, you request a shoutout from their account to yours and return the favor in some form. So, if you have a good presence on Facebook, you could promote their Facebook Page from here in return for the Instagram shoutout.

Repeat this process with dozens of different partners. As you grow your following, you could also find larger accounts to partner with.
Instagram user @entrepreneursquote has over a million followers and has successfully executed such partnerships to grow their account.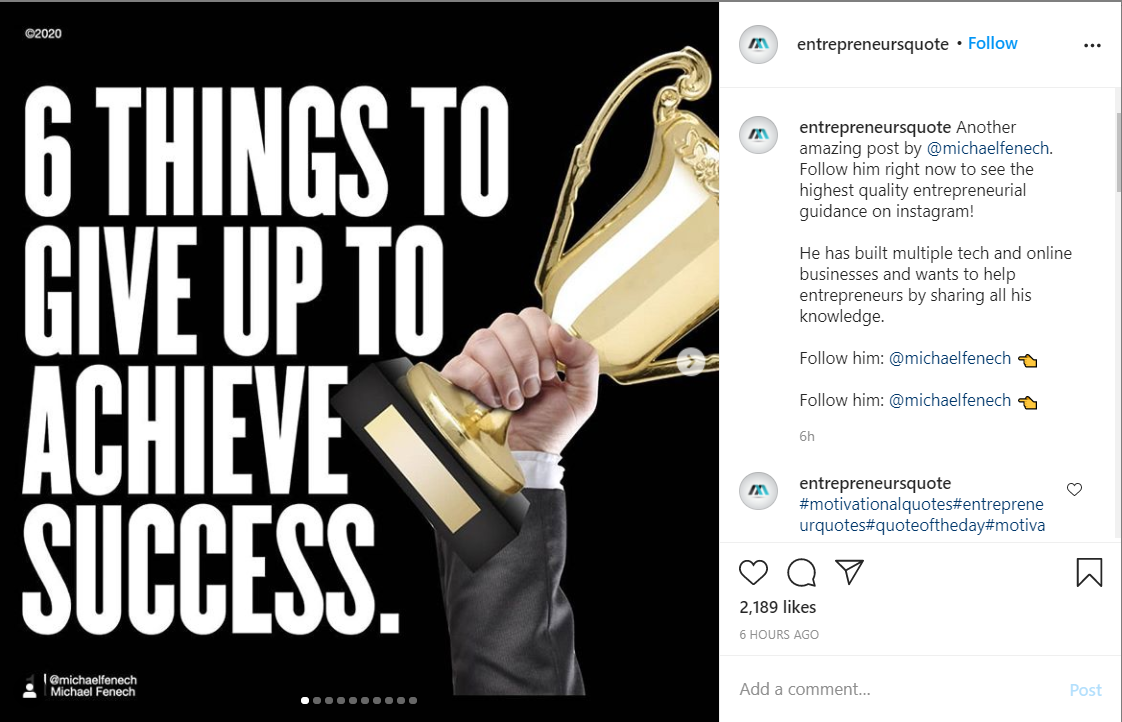 Look into Instagram SEO
There are two aspects to Instagram SEO. One is optimizing for discoverability within the platform. You may want to appear on top of Instagram's internal search when people look up related keywords.
Like it is with partnerships, this strategy only helps with traffic from within the Instagram network.
In addition to this, you may also want to consider optimizing for Google search. According to Alexa, over 18% of visits to Instagram.com originate from Google. Making your account publicly viewable and optimizing it for your target keywords can be a great way to reach an audience that is outside of Instagram.
Now that you have figured out strategies to grow a following and make your account more discoverable, the next step is to build a strategy to bring traffic from Instagram to your website.
Make full use of your bio
Unlike other popular social media platforms, Instagram does not make it easy to share your web URLs with followers on your posts. Your bio thus becomes incredibly more valuable.
Many businesses tend to promote their homepage from the bio section. But it is worth noting that the link from your bio is the sole gateway helping a follower convert into a customer.
You should hence be promoting a landing page that is focused solely on conversion. It is a good idea to build one that uniquely targets your Instagram followers, and promote the bio extensively from your Instagram posts.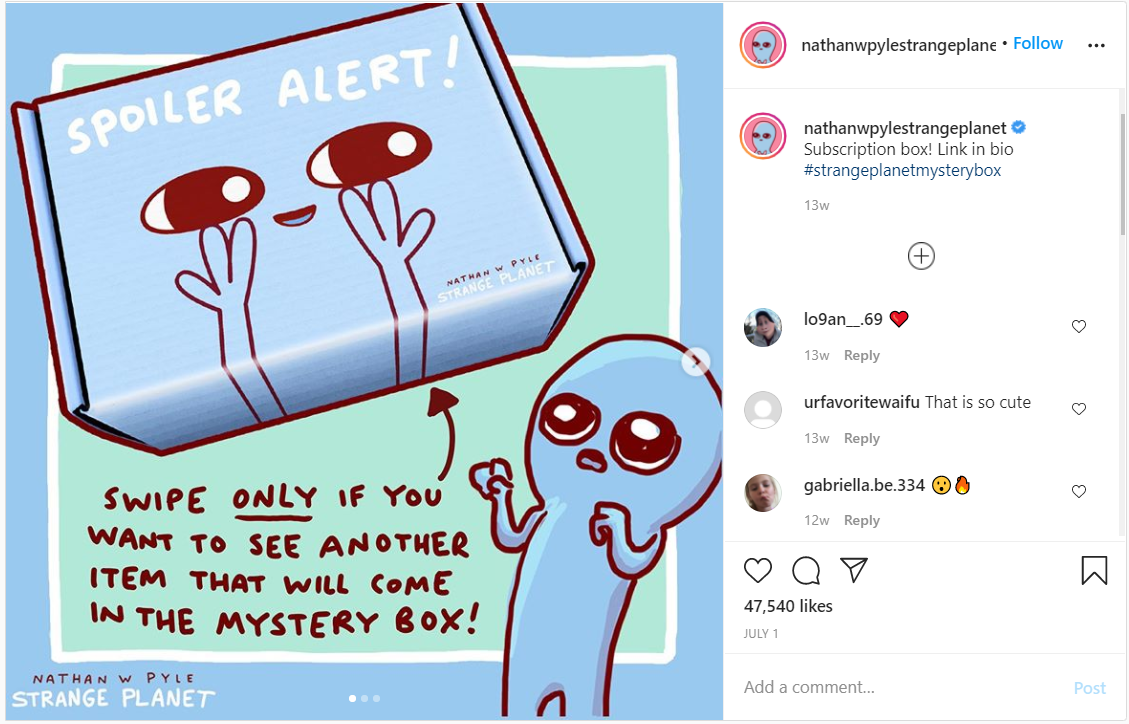 This is one of the most effective ways to drive traffic to your website .
Invest in the right content
Producing the right kind of content is an extremely critical part of Instagram success. There are several different strategies that you could use here.
Find what sets your competitors' content apart. Identify a similarly unique approach for your content.
Talk to your customers and find people interested in sharing photos or videos of them using your product. Such user-generated content is a form of social proof that can drive conversions.
Target a 5-1-1 strategy. That is, publish five insightful posts that are of value to the user, one post that sells them your product or service, and one more that shares social proof. This is a sweet spot that helps you maximize your brand exposure while delivering value to your Instagram followers.
Outsource repeatable tasks
Many organizations hire a social media manager to handle Instagram and they are often responsible for both content production as well as marketing.
While this sounds good in theory, you are unlikely to find someone good at both. You should focus your investments in producing content since that is exactly what drives engagement.
Once you have a steady stream of content ready, you could hire a virtual assistant to help you manage your Instagram calendar. This strategy helps you optimize your marketing budget by spending heavily on things that matter.
Keep messaging consistent
The objective of your Instagram marketing campaign is to convert followers into buyers. For this to happen, it is important to keep the messaging consistent throughout the entire journey.
The right way to do this is to work your funnel backward and ensure consistency in messaging across the board. This is important because there are multiple channels and campaigns to draw in visitors - but ultimately, there are only a handful of pages that convert the visitor into a buyer.
So knowing what benefits you communicate in the product description , and the positioning that you have adopted here will drive your messaging strategy on Instagram.
For instance, if you are competing on price, your product page would inevitably contain keywords like "Highly affordable", "Cheap", or "Budget" in the product title and description.
Work your way backward and make sure that you communicate the same values on the landing page that you plan to promote on your Instagram bio.
Once this is in place, your Instagram content production should revolve around ways to demonstrate the cost-effectiveness of your product. With the framework in place, you may easily automate your Instagram marketing to achieve your objectives consistently.
This way, if your visuals and caption communicate this benefit, then you shall be driving the right kind of audience to your landing page, and on to your product page. Conversion rates tend to be much higher by keeping messaging consistent.