As a marketer, Instagram can be a fantastic platform to reach your target audience. The visual nature of the medium helps in captivating potential customers and turn them into your brand advocates.
But here is the thing.
Like every other social media platform, Instagram too runs on a proprietary algorithm. A small tweak could potentially bring down years of effort that went into growing your Instagram following.
There are also cases where Instagram suspends user accounts for violating various policy terms.
As a marketer, it is important to hedge your risks so that a potential change in algorithm or policy violations do not disrupt your business too much.
Translating your Instagram followers into email subscribers is a great way to maintain control over your lists. This way, even with a potential account suspension, you can continue to nurture your followers and potentially convert them into customers.
Here is a short guide on how you can go about it.
What your audience wants
Your target audience seeks different content based on the platform they are on. Instagram is a visual medium and your followers here are interested in images and videos that captivate them.
This could be short how-to videos, product demos, customer testimonials, and industry-related content that they can relate to.
On email however, the same audience may seek something else - a newsletter on the latest developments in your industry, a detailed how-to guide on a particular topic, or simply a curated list of articles that your target group will find interesting. Pick a newsletter idea that will resonate with your audience.
The first step in the process is to identify a nurturing theme across both these platforms.
For instance, a hair salon's Instagram account could be short videos of how to do various trendy haircuts. Their email newsletter could however be the latest deals and coupons that subscribers could avail on their next visit.
Identify a lead magnet to promote on Instagram
A lead magnet is a downloadable asset (ebook, video, report, etc.) that you offer someone in exchange for their email address. It's a very effective way to build an email list.
Typically, identifying the right lead magnet is a challenge since you do not know for certain what content your subscribers will be interested in.
But if you already have an established Instagram following, an easy way out is to look at what kind of content your audience loves and produce a lead magnet around this topic. Make use of social media analytics tools like BrandMentions and Falcon for this purpose.
Build an automated system
Translating Instagram followers into email subscribers is not a one-off project. This needs to be done on an ongoing basis so that you have your latest followers with you on your mailing list as well.
For this reason, it is important to automate the entire process, starting with how you manage your Instagram account.
Create an elaborate Instagram marketing calendar replete with what content gets published when over the course of a month or more. You may also schedule these Instagram posts in advance so that you do not worry about missing a submission.
Importantly, make sure that all this content is perfectly aligned with the kind of lead magnet you are about to promote.
For instance, if you want to market an ebook on the topic of "The Top Haircuts for 2020", then your Instagram posts could be around the topic of the said haircuts. You could hire a graphic design agency that can provide you an effective long term content strategy for Instagram .
You could post videos or how-to photo guides for each of these haircuts. In the description, mention the ebook giveaway with details on how to download it.
This way, you can focus on marketing your Instagram account and continue to gather followers and subscribers on a consistent basis.
Examples
Here are a few good examples of how to get your Instagram followers to subscribe to your mailing list.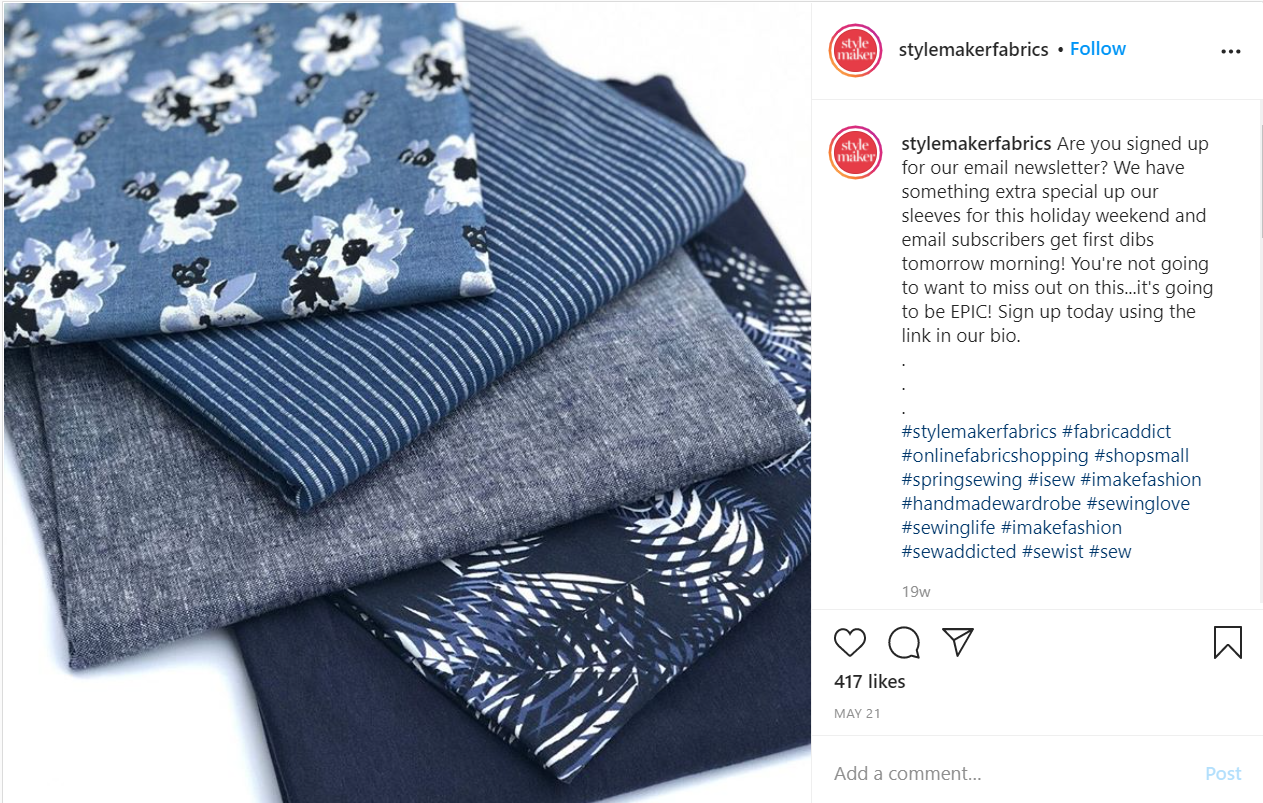 In this post, Style Maker Fabrics tempts their Instagram followers with "something extra special" if they subscribe to their newsletter. Could it be a new product launch? Or, an attractive discount? Either way, this hook gets the target audience interested and helps with converting them into email subscribers.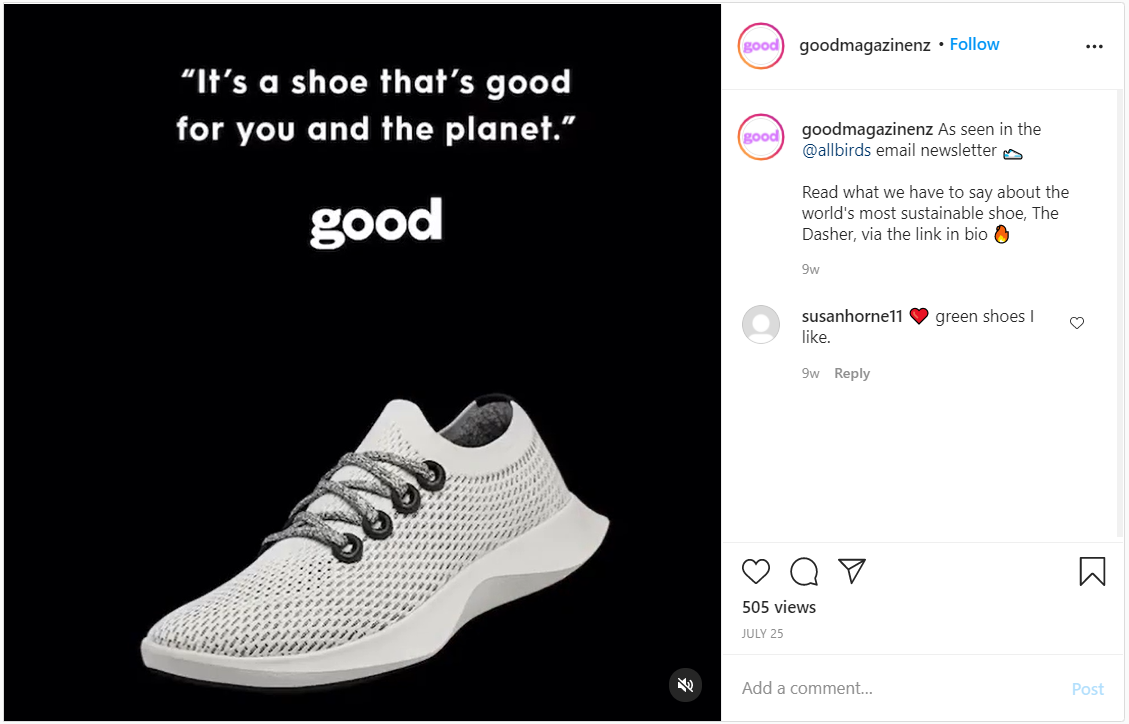 While we cannot comment on whether this is a collaboration between Allbirds and Good Magazine, this is nevertheless a strategy that you could try for your own brand. What you do here is partner with other Instagram accounts that target your audience and promote your newsletter on their feed. You may either return the favor by posting a similar shoutout on your Instagram account, or by providing them goodies or product samples in return.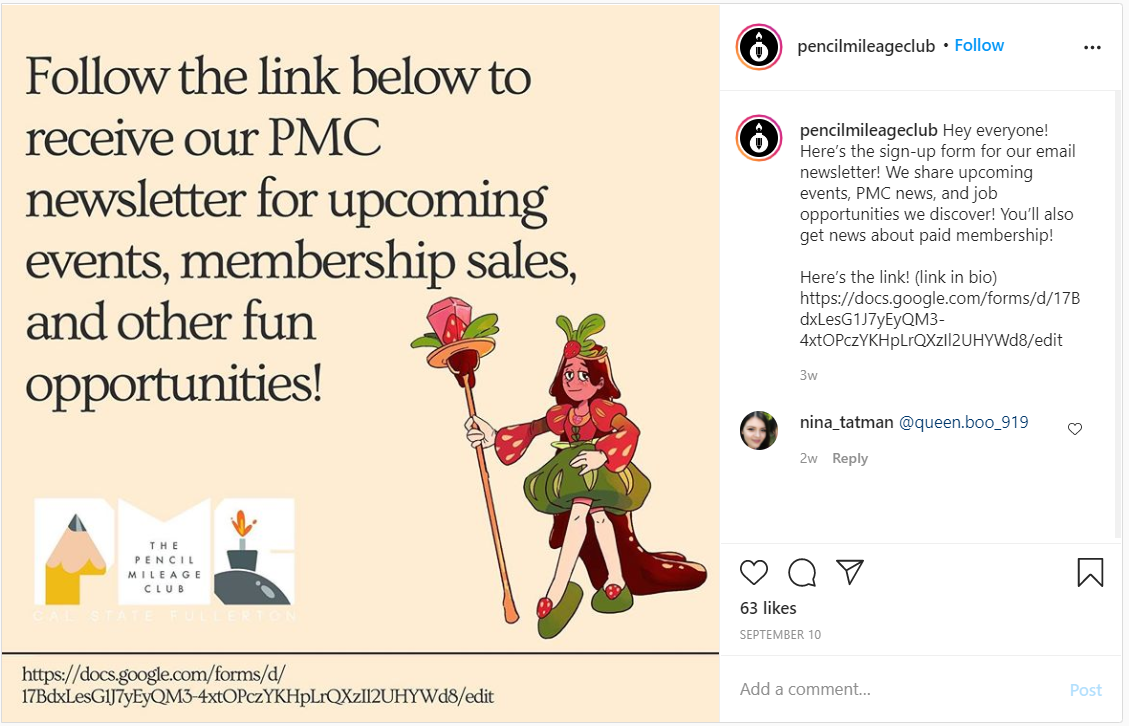 Sometimes, you could make your entire post just about your newsletter. Here, the Pencil Mileage Club promotes their newsletter sign up form on both the image as well as within the description.
While such posts gain much lesser traction than the average post in terms of engagement, the conversion is many times higher since the call to action is so much more noticeable.
Fair warning - overdoing this may result in follower fatigue and can bring down your following on Instagram. Not only that, since such posts have lower engagement, it can impact the overall visibility of your posts among followers.
Deploy this strategy very minimally and plan it well in order to get maximum results out of it.
Beyond Instagram
In addition to the risks mentioned earlier in this article, the past twenty years have seen the rise and fall of different social media platforms. By capturing your followers' email addresses, you are in a position to sustain your growth even if the popularity of Instagram gives way to another new platform.